2018 April Mayor's Column
2018 April 29
Daibutsu Railway 120th Anniversary – Daibutsu Railway Festival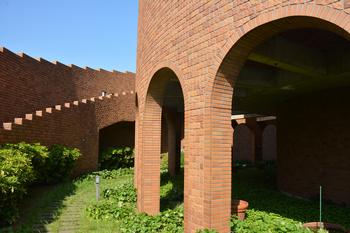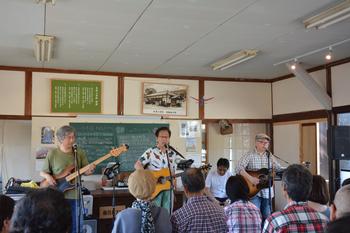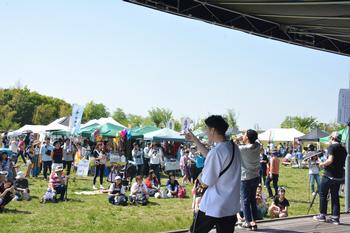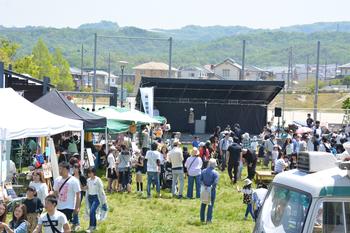 A grand festival was held in celebration of the 120th anniversary of the historic Daibutsu Railway. The festivities included music, food booths, exhibits, and other fun activities for a whole day of frivolity.
I'm very glad to have seen many happy faces enjoying the event and the charm of the old Daibutsu Railway
---
2018 April 28
Kizugawa City Culture Association 10th Anniversary Ceremony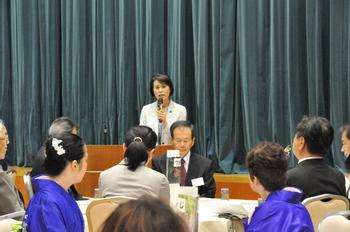 The Kizugawa City Culture Association has contributed greatly to the promotion of culture and community development in our city for 10 years and counting.
I believe incorporating culture into everyday life is an indispensable aspect of a healthy lifestyle.
---
2018 April 26
2018 Kyoto Prefecture City Mayor Spring Assembly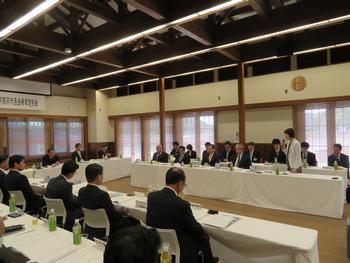 I attended the 2018 Spring Assembly for Kyoto prefecture city mayors as the assembly chairperson.
I will work my hardest to carry out the duties of an assembly chairperson.
---
2018 April 22
Tango x Kizugawa Food Fair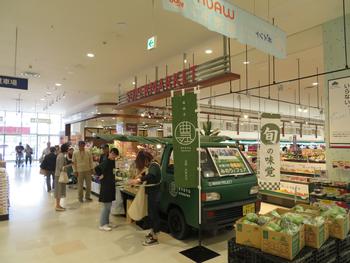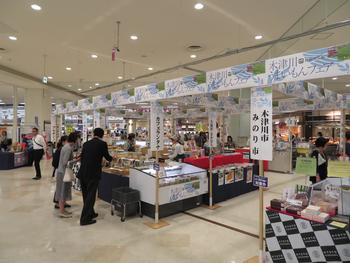 I visited the Tango x Kizugawa Food Fair and Daibutsu Railway exhibit both held at Aeon Mall Takanohara.
The fair provided many residents the chance to purchase Tango's specialty goods and experience the charm of our sister city in northern Kyoto.
---
2018 April 22
Kizugawa City International Exchange Association General Meeting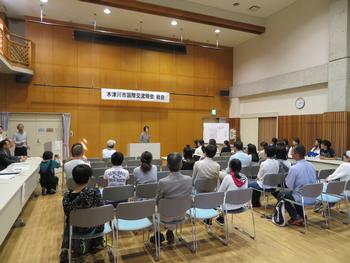 I sat in on the general meeting of our local exchange association, the KIEA.
I'm hoping that many people participate in their activities as more foreign visitors come to Kizugawa City and more chances for cultural exchange become available.
---
2018 April 22
15th Saganakadai Hanami Gathering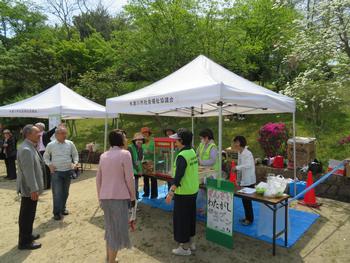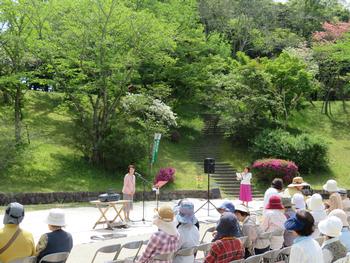 I joined in on the flower viewing fun with the Kizugawa City Public Welfare Association Saganaka Branch's 15th hanami event.
It was an enjoyable day full of songs and performances complimented by a beautiful background of the azaleas and dogwood flowers.
---
2018 April 22
Mimorotsuku Kaseyama Satoyama School 2018 Opening Ceremony
I attended the opening ceremony of the Mimorotsuku Kaseyama Satoyama School.
I'm looking forward to the Satsuma potato planting and cultivating experience and the hiking that will take place this school year. I hope through this people will get to know the appeal of Kizugawa's natural environment.
---
2018 April 16
New Kyoto Prefecture Governor Nishiwaki's First Day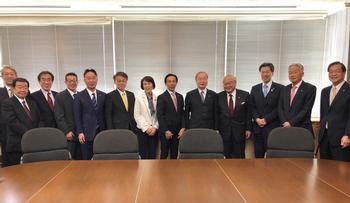 The recently elected governor of Kyoto Prefecture, Governor Nishiwaki, made his first appearance at which the prefectural mayors greeted him.
I look forward to working with Governor Nishiwaki in promoting further development in Kizugawa City.
---
2018 April 11
National Mayor's Association Bulletin "Shisei" Symposium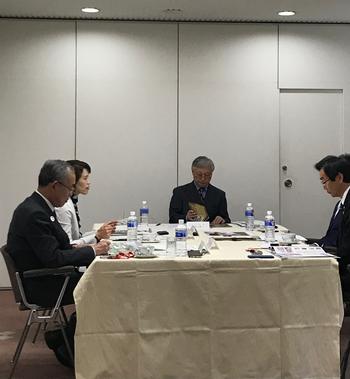 I attended a round-table discussion with mayors from Yamagata, Nagano, and Yamanashi prefectures to discuss the upcoming association bulletin "Shisei" and its theme of community health and regional promotion.
I introduced the efforts being taken to promote the Daibutsu Railway, Tono Stone Buddha Path, and Old Yamashiro Road as destinations in our city.
---
2018 April 9
RIKEN Keihanna - iPS Cell Drug Discovery Development Lab Opening Ceremony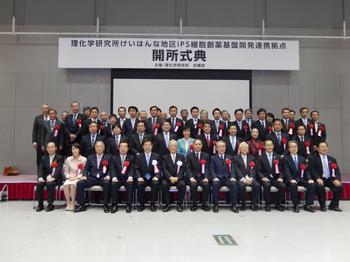 I attended the opening of the RIKEN Keihanna region's iPS Cell Drug Discovery Development laboratory.
As a new pillar in the Keihanna Science City region, RIKEN will continue their groundbreaking research and development of drug discoveries utilizing iPS cells and medical devices regarding regenerative medicine. I am especially looking forward to what kind of helpful medicines can be made using iPS cells.
---
2018 April 9
Nanyo High School – Junior High School Branch Opening Ceremony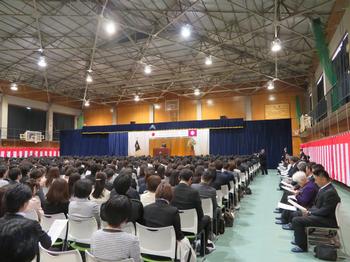 I attended the opening ceremony of the new Nanyo High School affiliated junior high school.
Through Kyoto Prefecture's decision to open a junior high school in affiliation with Nanyo High School, the pool of the schools which children can attend has widened and given them more freedom of choice.
---
2018 April 7
Sakasu Circus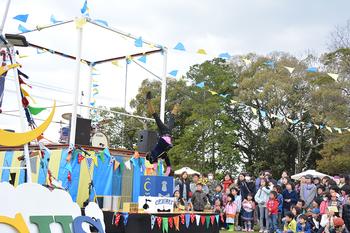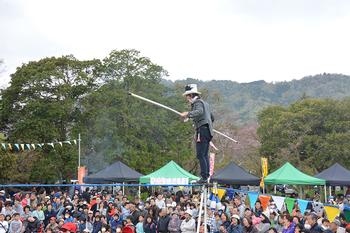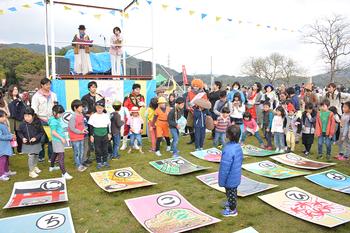 The Sakasu Circus, a pre-event for Kizugawa Art 2018 held at the Kuni-kyu Palace Ruins, was a huge success with many children and their families participating in the merriment.
This year's Kizugawa Art event in the fall is sure to be a success!
---
2018 April 7
Environment Forest Center – Kizugawa Incinerator First Lighting Ceremony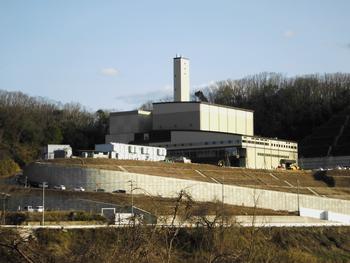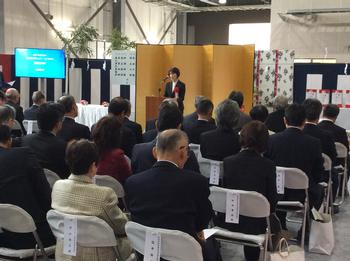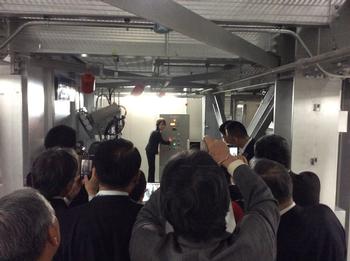 I had the privilege of igniting the incinerator for the first time at the long awaited opening of the Environment Forest Center.
I would like to express deep thanks the citizens of the area and the many people involved with the project for their understanding and cooperation in the construction of the center.
---
2018 April 2
Personnel Change Ceremony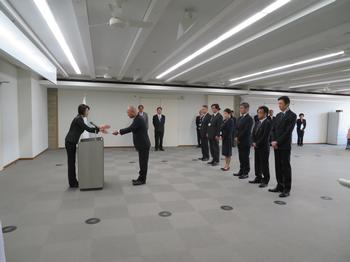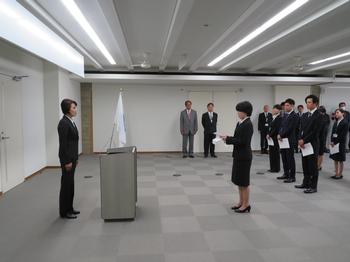 In lieu of the new fiscal year, we conducted a personnel change within the city hall, hiring new people and shuffling existing employees around to different departments.
I listened to the lively statement of determination from the new hire representative and I found it to be quite promising.
---
2018 April 1
Shiryoyamadai Assembly Hall Completion Ceremony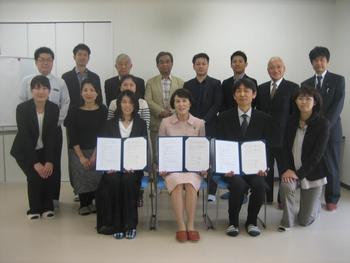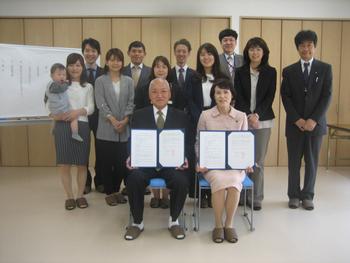 I attended the completion ceremony of two completed assembly halls in the Shiroyamadai area.
These halls will act as accessible gathering areas for the 5,337 residents in the Shiroyamadai area to congregate and build a friendly neighborhood.
登録日: 2018年4月10日 / 更新日: 2018年5月15日