2017 August Mayor's Column
2017 August 27
23rd National Women's Firefighter Exercise Competition Rally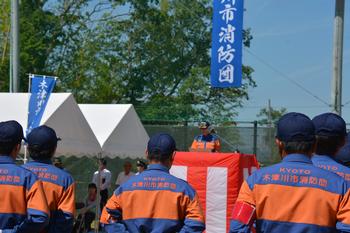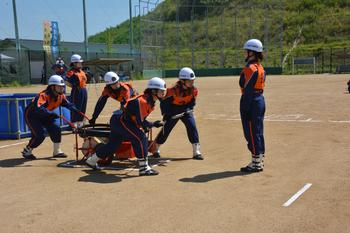 We held a motivational rally for the Kizugawa Fire Department Women's Team representing Kyoto Prefecture in the 23rd National Women's Firefighter Exercise Competition (held in Akita Prefecture) at the end of September.
The women of the Kizugawa Fire Department have been practicing day and night since the beginning of April and they showed us some of their skills by practicing a water pump carrying exercise at the rally.
I'm hoping they perform well and go all out at the competition and win for Kyoto!
---
2017 August 24
Kizu Minami Junior High School Art Club Exhibition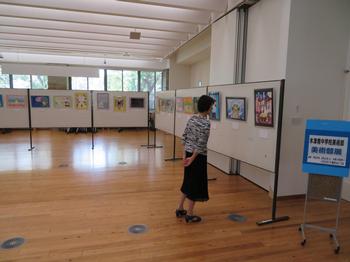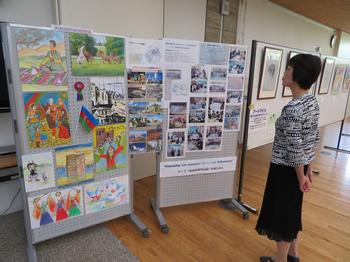 I took a short trip to the Resident Activity Space located on the first floor of our City Hall and was delighted by the individualistic art pieces of the Kizu Minami Junior High School Art Club members.
I also viewed a display on the "Art Mile," an international mural project conducted with the cooperation of multiple countries around the world. Kizu Minami Junior High's art mural was created with cooperation from a school in Azerbaijan. By the display, I could tell it was a very fun project to take part in for the students.
---
2017 August 20
11th Tono Summer Festival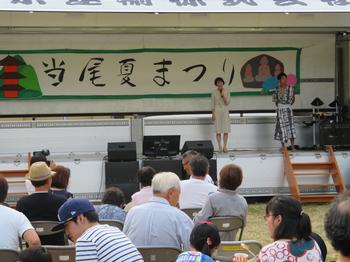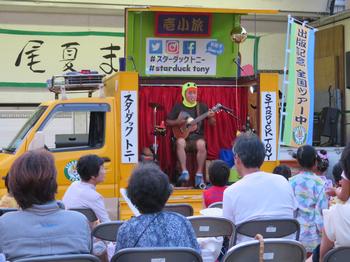 I joined the citizens of Tono Village in enjoying the performance of the popular "Starduck Tony" along with numerous refreshment stands in this year's summer festival.
---
2017 August 19
Higashi Kizugawadai Summer Festival – Cool Evening Gathering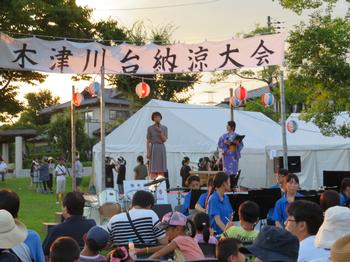 I attended a summer festival in the Higashi Kizugawadai area.
It was a wonderful evening accompanied by a Twilight Concert by the concert bands of Nanyo High School and Kizu High School.
---
2017 August 10
48th National Junior High Soccer Tournament – Pep Rally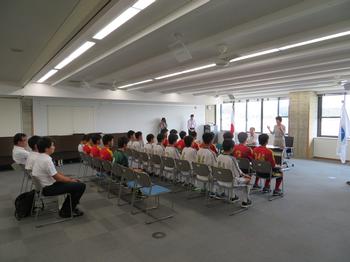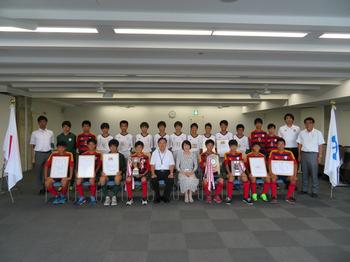 We held a pep rally for the Kizu-minami Junior High School soccer team, who is slated to make an appearance in this year's national soccer tournament.
This is the first time a team from Kizugawa has made it to the national level tournament.
The tournament opens in Kumamoto Prefecture on the 18th of August. As representatives for Kizugawa as well as Kyoto Prefecture, we hope they give it their all and do their best!
Go Kizu-minami Junior High!
---
2017 August 6
Sato Matsuri Festival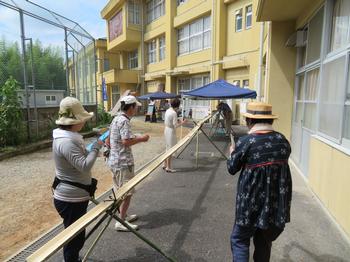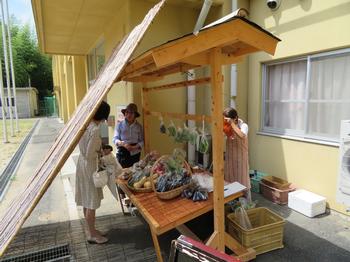 I dropped by the Tono Village Community Center to participate in the Sato Matsuri Festival activities. The flea market and nagashi somen were quite enjoyable!
---
2017 August 2
2017 Kyoto Prefecture Expressway Network Promotion Committee Meeting
2017 Kyoto Prefecture Expressway Association, Kyoto Erosion Prevention, Flood Control and Disaster Preparedness Association General Meeting
2017 Kyoto Prefecture City Planning Association General Meeting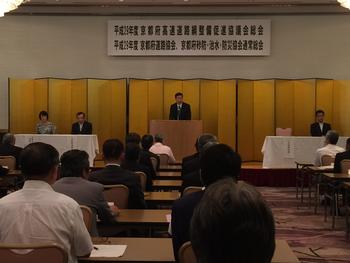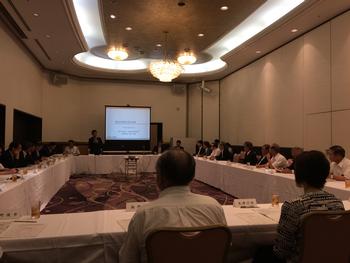 I attended a number of meetings regarding the construction of an expressway network within Kyoto.
We welcomed the Kinki Regional Development Office Head and discussed and exchanged opinions on expressway administration.
登録日: 2017年8月23日 / 更新日: 2017年9月5日