Kizugawa City Business Location Guide
Introduction to Kizugawa City
Kizugawa City is located in the southern tip of Kyoto prefecture. The city is an active participant in the national Kansai Science City project and is continuously promoting its development.
Formed on March 12, 2007 by the merger of Kizu, Kamo and Yamashiro towns, Kizugawa City is "A Cultural City, Rich in Water, Nature, and History Where People Cheerfully Unite to Create a Prosperous Future," and strives for its residents' happiness and well-being.
Located in the core region of the Kansai Science City, Kizugawa City is rich in history and nature, and acts a source of cutting-edge scientific and cultural research.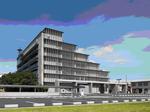 Summary:
Location: Southern tip of Kyoto Prefecture, north of Nara city
Area: 85.12 squared kilometers
Population: 75,000+ (as of December 12, 2017)
Transport:
Train:
Japan Railways- JR Kizu Station (3 lines)

JR Kansai Main Line (To Nara, Osaka, Nagoya)
JR Nara Line (To Kyoto, Nara)
JR Science City Line (To Osaka, Kobe)

Kintetsu Railways- Taka no Hara Station (1 line)

Kyoto Line (To Kyoto, Nara)
Car:
Route 24 (Kyoto to Wakayama)
Route 163 (Osaka to Mie)
Keinawa Motorway
Business Enterprises in Kizugawa City
Among the 12 designated cluster sites in Kansai Science City, 3 are located in Kizugawa City. They are: Seika-Nishi Kizu, Heijyou-Soraku and Kizu. Currently, there are already 21 companies of various industries which have chosen to base themselves in Kizugawa City.
Seika/Nishi Kizu




Omron Keihannna Innovation Centre

Heijyou/ Souraku

Sekisui House, Comprehensive Living Research Center

Kizu




Rohto Pharmaceuticals Research Village
Support for Businesses in Kizugawa City
Kizugawa City offers various subsidies and incentives for businesses relocating to Kizugawa City. They are: Business Start-up Subsidy for development of business infrastructure, Local Employmenbt Subsidy to encourage employment of local residents, and Business Operation Support Subsidy. Specifically, the Business Operation Support Subsidy provides up to \150,000,000(or \600,000,000 depending on qualifications) over 3 years, and can accommodate to large-scale business establishment.
In addition, Kizugawa City also offers a comprehensive support service and provides advice and assistance with all aspects of government and municipal regulations, from planning to the start of business operations.
For more detailed information on the available subsidies and how to qualify for them, please refer to the following document:
Kizugawa City Business Guide

Access to Kizugawa
Located in the center of the Kansai Region, Kizugawa City is well serviced by public transportation. Kizugawa City is connected with direct trains to the metropolitan areas of Kansai, Osaka and Kyoto, which are reachable within 30 minutes to 1 hour.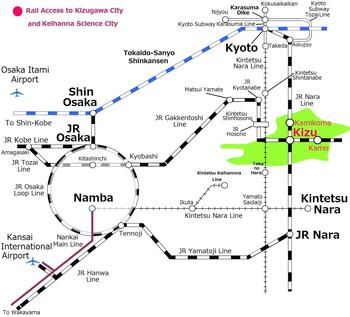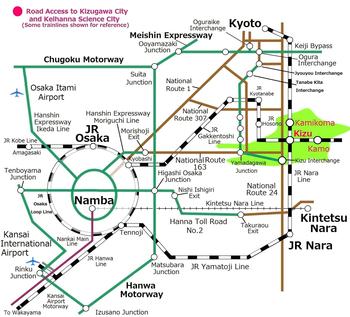 Further Information
For parties interested in further information and discussion, please direct all enquiries to the Kizugawa City Hall Scientific Research and Planning Division, or the Urban Renaissance Agency.
Contact Details

Kizugawa City Office
Section
Tourism, Commerce, and Industry Division
Phone
0774-75-1201
FAX
0774-75-2701
E-mail


[email protected]

Contact
Sakamoto, Takishita
Urban Renaissance Agency
Section
West Japan Branch Office, Business Site Sales Team 1
Phone
06-6346-3183
FAX
06-6346-3125
E-mail


[email protected]

Contact
Onoe, Mizushima
登録日: 2012年3月31日 / 更新日: 2017年12月22日