The Official Website of Kizugawa City
Welcome to the official website of Kizugawa City!
Below are some links to help you get acquainted with our city whether you are a resident or just planning a short visit.
About Guide to Special Cash Payments
The benefit will be 100,000yen per person.
Who?
Those who are registered with Basic Resident Rehistretion System as of April 27,2020
When?
The start date for accepting applications will be decided by each municipality,and the application forms will be sent as soon aspossible.Please apply within three months of the date of the start of applications.
How can I apply?
The municipalities will send an application form by mail with your name and date of birth printed. In order to prevent spread of COVID-19 infection,please apply by mail or online.
guide brochure
For more details
Special Cash Payments Call Center:0120-260020
Latest News
Compilation of Kizugawa City's Important Cultural Properties
Second only to Kyoto City in Kyoto Prefecture for having the most important cultural properties, Kizugawa City is home to a treasure trove of artifacts, art, architecture and sights that have been designated as culturally or historically important by the Japanese government.
Come and experience fragments of Japan's vibrant past in Kizugawa City!
Learn more about some of our city's properties on our Important Cultural Properties page.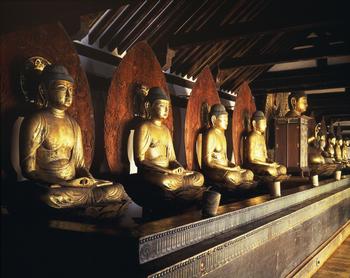 Japanese National Treasure
Nine Wooden Sitting Statues of Amitabha at Joruri-ji Temple
---
Business Opportunities in Kizugawa City

Thinking of expanding your business in Japan but having a hard time finding a suitable location?
As a constitutent of the Keihanna Science City project in the Kansai region, we are committed to being a major contributer of economic, scientific, and cultural development in Japan.
Kizugawa City offers generous subsidies for businesses, research facilities, and other businesses looking to open a new branch in the area.
We are currently home to the branches and main offices of numerous, well-known Japanese companies such as Sekisui House, JEUGIA, Rohto Pharmaceuticals, and others.
For more information, please refer to our updated business guide or visit our Kizugawa Business Location Guide page.

Information for Foreign Residents
For information regarding new or current residents, please refer to the links provided below or the "Living in Kizugawa" tab located in the left column.
Come visit Kizugawa City!
Located just 15 minutes away from Nara City and serviced by numerous transportation companies, it is easy to drop by for a visit. Please take a look at our new "Exploring Kizugawa" tab for more information on directions and sights in Kizugawa City.