岩船白山神社 - Gansen Hakusan Shrine
Climb up the stairs located to the west of Gansen-ji Temple's main gate and you'll find Hakusan Shrine and Sessha Kasuga Shrine, both important cultural properties built in the Muromachi period. Previously housing the Shinto deity of Gansen-ji, it is now worshipped as the guardian deity of the Gansen region.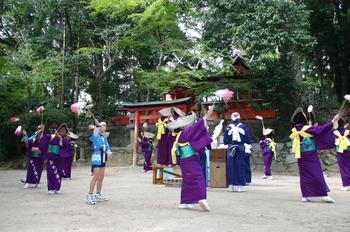 Locals Performing the Okage Odori at Hakusan Shrine
Every October 16th, locals hold the Okage Odori, a dance said to be popular during the Edo period and a vestige of the Ise Pilgrimmage, at this shrine. Popularity of the dance exploded in Minami Yamashiro at the end of the shogunate as residents were caught up in the advent of "ee ja nai ka," a category of religious and communal celebrations that included dances like Okage Odori. The dance is depicted on an ema plaque from the era. For some time after WWII the dance stopped being performed, only to be revived in Showa 46 (1971). It is also registered as an Intangible Cultural Property of Kyoto Prefecture.
登録日: 2018年7月20日 / 更新日: 2018年7月20日