2017 Izumi-hime Travel Diary Entries
This is the travel diary of the Kizugawa City mascot Izumi-hime, where she writes down musings about the many places and fun events to see and experience in our city. Feel free to take a look into her fun activities!
2017 December 31
Hey! It's me again, Izumi-hime!
We're finally finishing off the year and it was a great one filled with lots of travelling and fun times!
Thank you to all the people who came to talk and play with me this year!
I hope next year is filled with just as much smiles!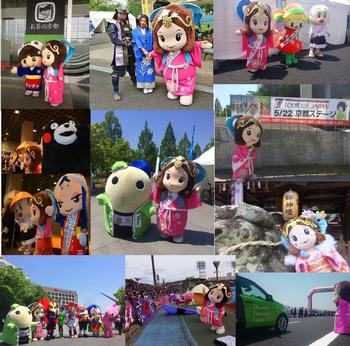 ---
2017 December 20
Happy December from me, Izumi-hime!
I dropped by to see my friends at city hall and boy was I surprised to see a beautiful photo exhibit of Kizugawa on display!
The exhibit was called "Kizugawa-ii" which is a fun way to say "Kizugawa is good" in Japanese.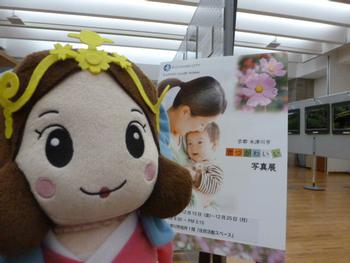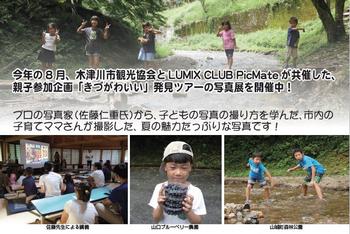 The pictures on display were from an event held in August for children and their parents called the "Kizugawa-ii Discovery Tour." Families took pictures of themselves enjoying summer, catching bugs, and picking fruits. There were event some pictures of Kizugawa's famous views by a professional photographer!
I gotta work on my photography if I want to take quality pictures like the ones I saw! Everyone did a great job!
---
2017 September 23
I went to the local product show and the KARA-1 Grand Prix 2017 today!
As one of the mascots for the "Kyoto Infused with Tea" intiative I had a big role in telling everyone about Kizugawa City and all of the fun things we're doing for promotion!
I was so happy I got to see a lot of friends at the event!
I also tried some of the spicy foods and boy…it was spicy! My eyes were watering after one bite!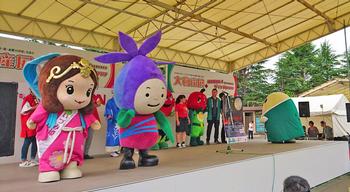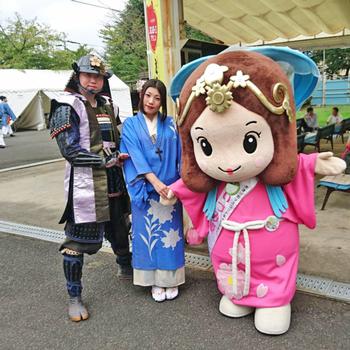 Here I am with two members of the Otokuni Sengoku Tsutsuji!

On October 14th I'll be dropping by the Kizugawa City 10th Anniversary Mikoshi Light-up event!
Here's some details about if you want to check it out:
When – October 14th 4-9PM (postponed to the next day in the event of rain)
Where – Kizugawa City Hall, Parking Lot in front of the Police Station
For more information follow this link!
http://www.city.kizugawa.lg.jp/events/index.cfm/detail.1.27920.html
Come see the Mikoshi light-up with me!
---
2017 September 18
Happy September to you all!
This month I attended the "Yamashiro Treasure Festival!"
The event staff called me up on stage to join the other Kyoto mascots and show off my dance moves.
Afterward, a children's choir group sang for everyone in attendance. Their singing voices were so soothing, my body swayed along with the rhythm of their song. Music really is a wonderful thing, isn't it!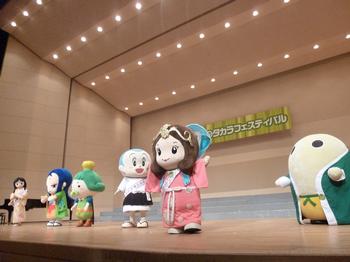 Later this month on the 23rd I'll be headed to the local product exhibition and the KARA-1 Grand Prix held at Muko City's Cyclying Arena!
In preparation, Muko City is lining up a shopping street full of spicy foods and local goods for all of us to try. I'm super excited to go!
To learn more about the product exhibition and the KARA-1 Grand Prix 2017, please take a look at the link below!
http://otokunidaibussanten.jp/
For more information about the Kyoto Mascots, click on the following link:
http://www.pref.kyoto.jp/yamashiro/ki-kikaku/kyokyara-top.html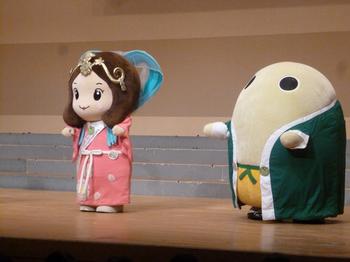 Hope to see you in Muko City!
2017 July 1
This July, I made an appearance at the Japan Summit in Kyoto event!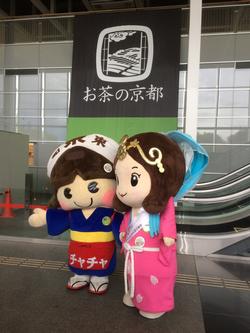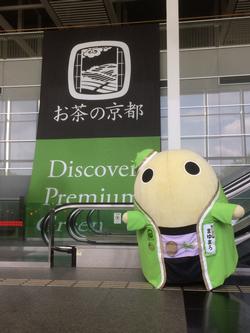 For two days in July, people came from around the country to the Keihanna Open Innovation Center (KICK) to tell us stories on how their local historical sights became recognized as culturally important properties.
There were so many booths from all kinds of prefectures, it was like touring Japan in one room!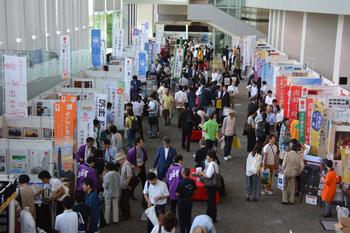 There were stands promoting local cuisine and our wonderful tea as well!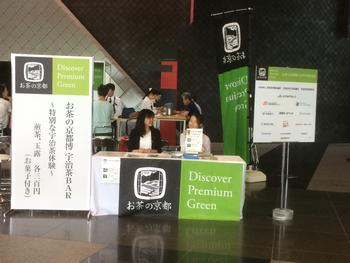 During the event I was very busy telling everyone I could about Kizugawa! I hope I was able to communicate just how awesome our city is…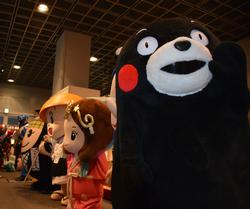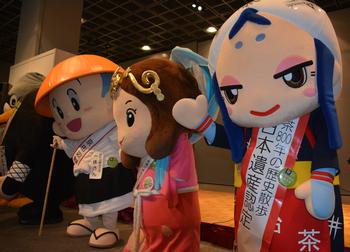 I made some new friends there as well. Take a look at this cool shot I took with the Kaikyo Rangers!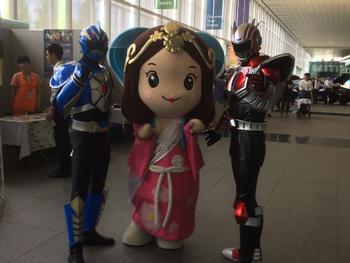 ---
2017 May 22
I went to see the Kyoto leg of the "Tour of Japan" cycling race!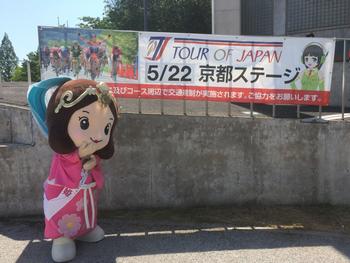 The "Tour of Japan" race is a professional road bicycle stage race held annually in Japan. Teams from all over the world compete in this tour and it is considered one of largest races in Asia.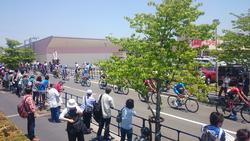 I, as well as my mascot friends from around Kyoto could not believe our eyes…who knew bicycles could move so fast!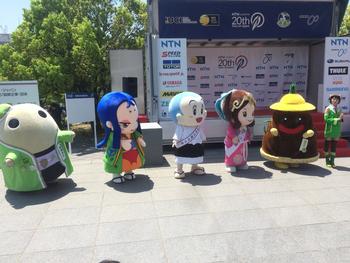 The race was an amazing sight to see, but how about this picture of all of us mascots from Kyoto? Aren't we the cutest!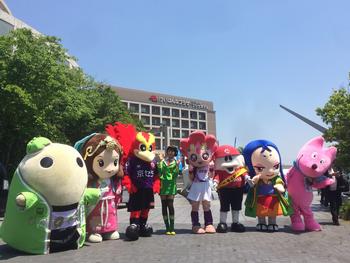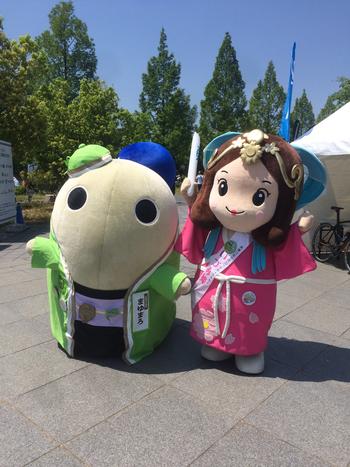 ---
2017 April 30
Today I attended the opening ceremony of the Shin-Meishin Expressway!
I got to take a walk on the new roads during a free-walking event they held to celebrate the opening.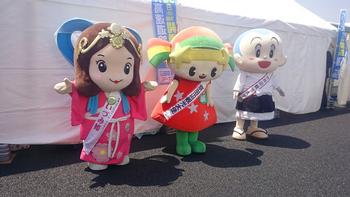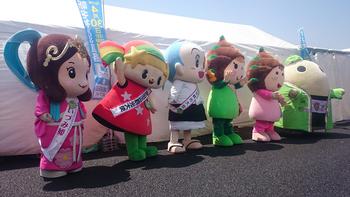 Seeing the brand new roads was quite moving!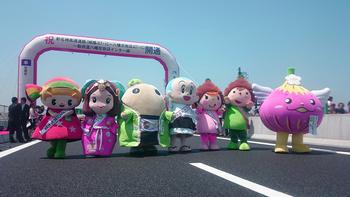 The opening of this expressway connects the northern and southern regions of Kyoto from Kyotanabe in the north to Kizugawa in the south. Visiting all the areas in Kyoto Prefecture just got a little easier!
I can't wait to take a trip to all of these areas connected by the Shin-Meishin Expressway!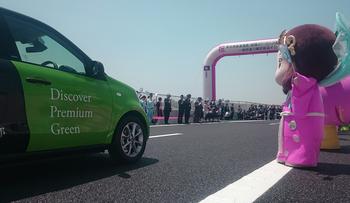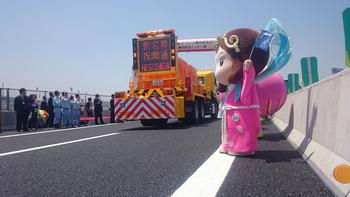 ---
2017 February 26
I went to the opening home game of our local soccer team Kyoto Sanga, who's vying for a promotion up to the J1 League.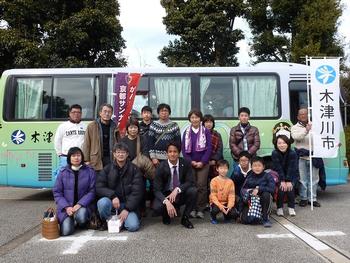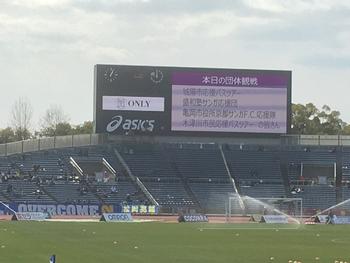 For the opening game, we started a Kyoto Sanga cheer tour bus just for Kizugawa citizens!
A whopping 20 citizens from Kizugawa came by bus to cheer for our team and I heard they got a picture with one of the players! So jealous!
This time around, I was busy doing my promotional rounds for the city, taking pictures with Kyoto Sanga FC College Campus Company ambassadors Ms. Takeda and Ms. Aoki.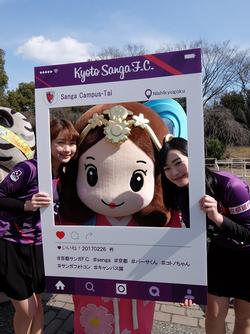 During halftime, the stands of the stadium lit up with supporters and we all cheered along.
I found out that seeing a soccer game in person at a stadium is way more intense than watching it on a screen!
I sat on the edge of my seat and cheered my heart out for Kyoto Sanga. It was good fun!
Gosh, I hope I get to go to another game soon!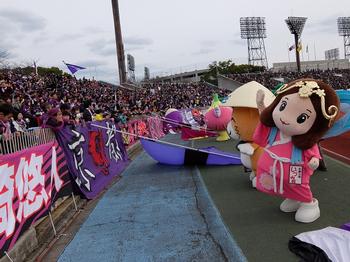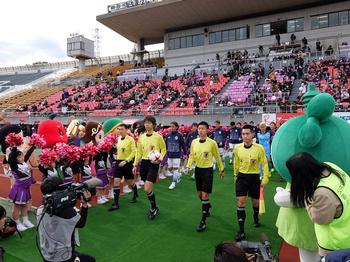 ---
2017 January 12
Happy New Year!
How are you all doing this New Year?
I stopped by Saganaka-jinja Shrine for a quick visit.
How do you like my Sunday clothes? Pretty cute, right?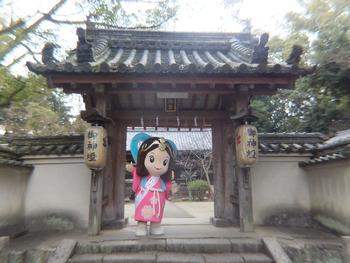 Did you know that the Onda and Mochibana ceremonies held at this shrine are designated as Important Intangible Cultural Properties by Kyoto Prefecture? That's pretty awesome, if I do say so myself!
I want to enter into the local photo contest and go with a picture that's a little different from the norm. I'm thinking maybe some wonderful pictures at the shrine are the just the edge my photos need to make a good entry for the contest! What do you think?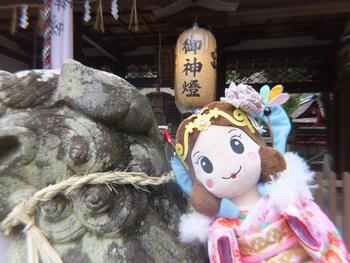 Come to Kizugawa and let's all take some amazing pictures together!
登録日: 2017年8月29日 / 更新日: 2018年1月18日