10th Anniversary of Kizugawa City
This past March 12th, Kizugawa celebrated its 10th anniversary as a city. Established in 2007 with the merger of the three neighboring towns Kizu, Kamo, and Yamashiro, we in Kizugawa City are looking forward to the next 10 years and beyond! Here is a word from our mayor regarding the 10th Anniversary Ceremony...
---
On March 12th, I celebrated our 10th anniversary as a city with dignitaries and citizens at the ASPIA Yamashiro Community Center.
I awarded two Distinguished Citizen certificates to Iemon Fukui, creator of Fukujuen, a well-known tea manufacturer and distributer located in Kizugawa City, and the Japanese marathon record holder Toshinari Takaoka, a native of Kizugawa City.
In addition to the award ceremony, we were graced with an anniversary concert by the wind ensembles of Kizu High School and Nanyo High School, a congratulatory lecture by Olympic synchronized swimmer Yumiko Ishiguro, and the presentation of the Santa Monica Friendship City Pact with representatives from Santa Monica, California, USA.
I would like to thank our emcees from Kizu and Nanyo High school, our Tea Ceremony Association for providing green tea to our guests, our Flower Arrangement Association for the flowers that decorated the venue, and all of our support staff that proved crucial in reining in our 10th year as a city.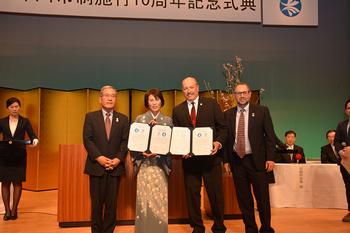 Mayor Noriko Kawai and constitutuents from frienship city Santa Monica displaying Frienship City Pact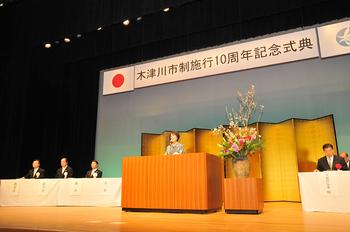 Mayor Noriko Kawai giving the 10th Anniversary Ceremony address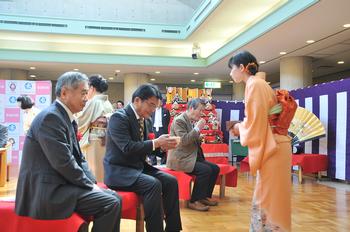 Tea Ceremony Association member serving tea to attendees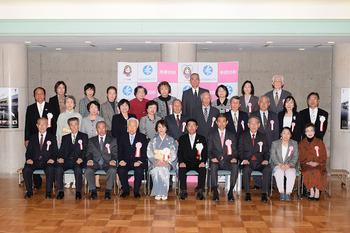 Mayor Kawai and Assembly Head Kura with the night's awardees
登録日: 2017年4月19日 / 更新日: 2017年4月19日