Wakidenomiya Igomori Matsuri
The Igomori Matsuri festival is a farming ritual where the crops are blessed in advance before planting. Held at Wakidenomiya in the middle of every February, it is known as an ancient festival belonging to the Yamashiro region and designated as an Important Intangible Cultural Property of Japan.
As "igomoru" means to be careful of leaving one's home and to purify one's mind and body, villagers used to stay in their house and not make a sound during the festival. The Muromachi period farming and rice-planting ritual has garnered much attention from folklorists. It is thought that the festival's roots date back to when farming first started in Japan and there are many theories about its origins.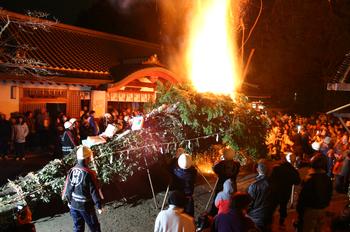 Igomori Festival Ceremonial Fire
登録日: 2018年7月20日 / 更新日: 2018年7月20日