The Official Website of Kizugawa City
Welcome to the official website of Kizugawa City!
Below are some links to help you get acquainted with our fair city whether you are a resident or just planning a short visit.
Latest News
Compilation of Kizugawa City's Important Cultural Properties
Second only to Kyoto City in Kyoto Prefecture for having the most important cultural properties, Kizugawa City is home to a treasure trove of artifacts, art, architecture and sights that have been deemed by the government as culturally or historically important.
Come and experience fragments of Japan's vibrant past in Kizugawa City!
Learn more about some of our city's properties on our Important Cultural Properties page.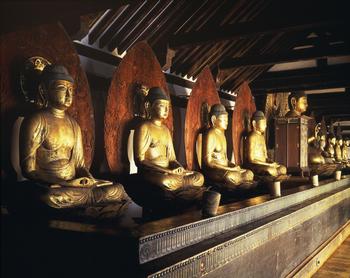 Japanese National Treasure
Nine Wooden Sitting Statues of Amitabha at Joruri-ji Temple
---
Business Opportunities in Kizugawa City

Thinking of expanding your business in Japan but having a hard time finding a suitable location? Look no further than Kizugawa City!
As a constitutent of the Keihanna Science City project in the Kansai region, we are committed to developing economically, scientifically, and culturally.
Kizugawa City offers generous subsidies for businesses, research facilities, etc. looking to open a new branches in the area.
We currently home to the branches and main offices of numerous, well-known Japanese companies such as Sekisui House, JEUGIA, and Rohto Pharmaceuticals, among others.
For more information, please refer to our updated business guide or visit our Kizugawa Business Location Guide page.
---
What else is going on in Kizugawa? Find out here on our events page!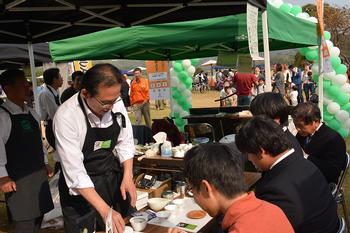 Tea tasting at a community event in Mikanohara, Kizugawa City

Information for Foreign Residents
For information regarding new or current residents, please refer to the links provided below or the "Living in Kizugawa" tab located in the left column.
Come visit Kizugawa City!
Located just 15 minutes away from Nara City and serviced by numerous transportation companies, it is easy to drop by for a visit. Please take a look at our new "Exploring Kizugawa" tab for more information on directions and sights in Kizugawa City.