The Official Website of Kizugawa City
Welcome to the official website of Kizugawa City!
Below are some links to help you get acquainted with our fair city whether you are a resident or just planning a short visit.
Latest News
2017 April
Kizugawa City Celebrates its 10th Anniversary


Mayor Kawai with constituents from Santa Monica, California USA
presenting signed copies of their Friendship City Pact

This past March 12th Kizugawa celebrated its 10th anniversary as a city. Established in 2007 with the merger of the three neighboring towns Kizu, Kamo, and Yamashiro, we in Kizugawa City are looking forward to the next 10 years and beyond! A word from our mayor regarding the 10th Anniversary Ceremony...
2017 April
Kyoto Infused with Tea Expo – Discover Premium Green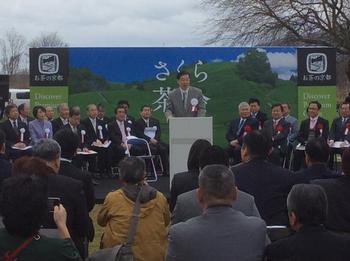 Kyoto Prefectural Governor Yamada providing opening
remarks for Discover Premium Green event "Sakurachakai"

Kizugawa City, along with 12 other southern Kyoto municipalities, is a participant in the "Discover Premium Green" promotion, a year-long campaign created to showcase the world famous tea of the southern Kyoto region. To learn more, please visit their website...

Information for Foreign Residents
For information regarding new or current residents, please refer to the links provided below or the "Living in Kizugawa" tab located in the left column.
Come visit Kizugawa City!
Located just 15 minutes away from Nara City and serviced by numerous transportation companies, it is easy to drop by for a visit. Please take a look at our new "Exploring Kizugawa" tab for more information on directions and sights in Kizugawa City.