The Official Website of Kizugawa City
Welcome to the official website of Kizugawa City!
Below are some links to help you get acquainted with our fair city whether you are a resident or just planning a short visit.
Latest News
2017 November
City Mascot Izumi-hime's Travel Diary
Hi everyone! My name is Izumi-hime and I am the mascot of Kizugawa City.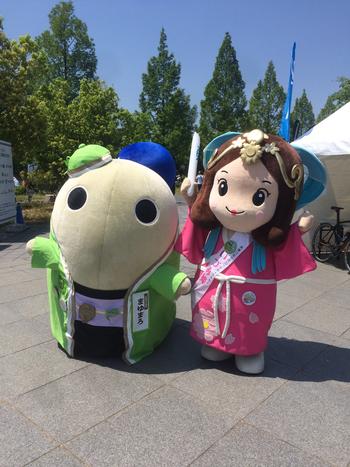 Here I am (right) with Mayumaro the Mascot of Kyoto Prefecture (left)!

I've been studying a little English on my free time and thought it would be a fun project to translate some of my diaries so people all over the world can read it and learn about our great city! Please take a look at my page with my introduction and travel diary where I cover my adventures around Kizugawa.
I'm sure you'll just love it!
What else is going on in Kizugawa? Find out here on our events page!

Information for Foreign Residents
For information regarding new or current residents, please refer to the links provided below or the "Living in Kizugawa" tab located in the left column.
Come visit Kizugawa City!
Located just 15 minutes away from Nara City and serviced by numerous transportation companies, it is easy to drop by for a visit. Please take a look at our new "Exploring Kizugawa" tab for more information on directions and sights in Kizugawa City.