Kizugawa City Business Location Guide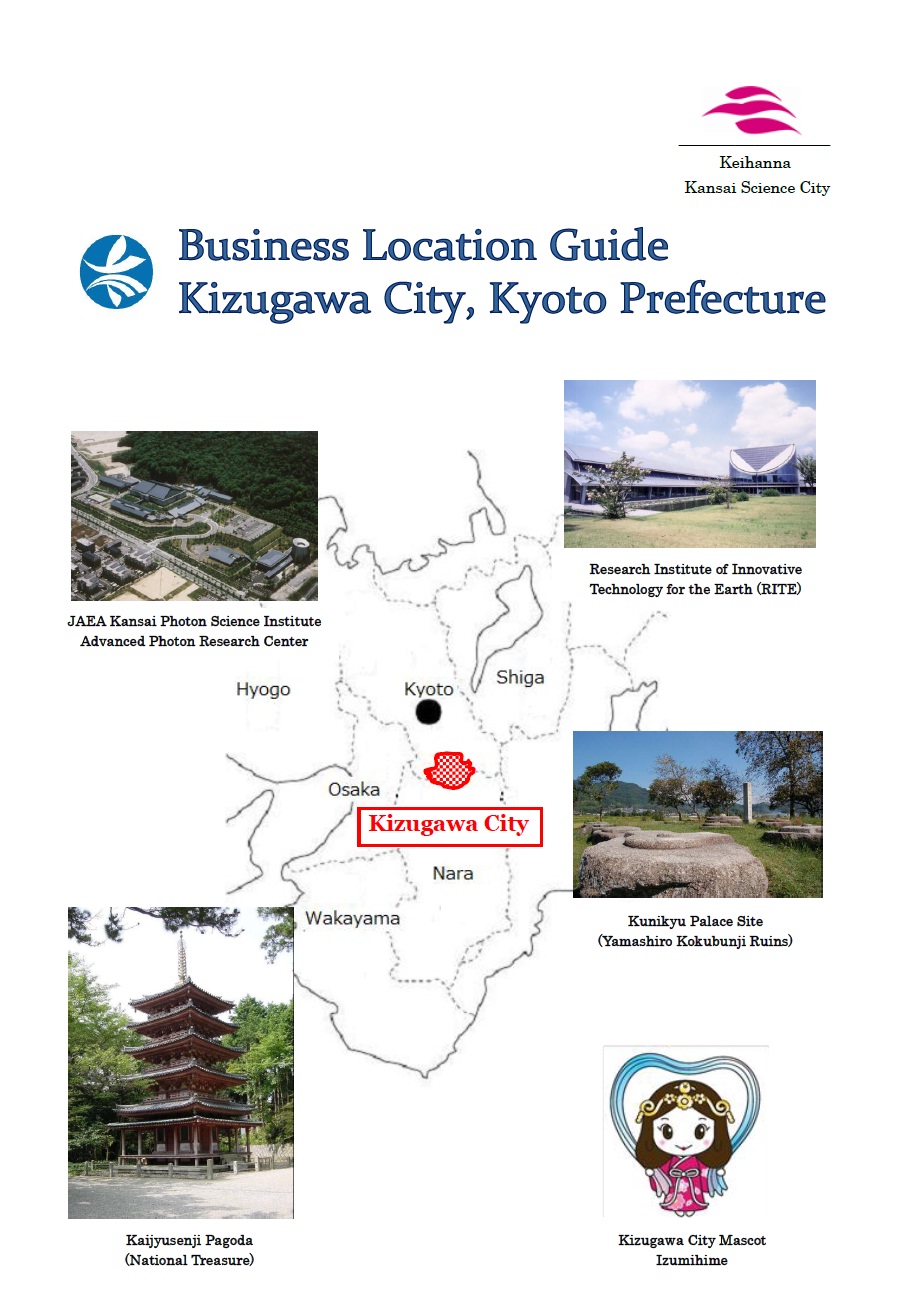 Introduction to Kizugawa City
Kizugawa City is located in the southern tip of Kyoto prefecture. The city is an active participant in the national Kansai Science City project and is keenly promoting its development.
Kizugawa City was formed on March 12, 2007 by the merger of Kizu, Kamo and Yamashiro towns. As expressed in the city's motto, "A Cultural City, Rich in Water, Nature, and History Where People Cheerfully Unite to Create a Prosperous Future," Kizugawa City strives for its residents' happiness and well-being.
Located in the core region of the Kansai Science City, Kizugawa City is rich in history and nature, and acts a source of cutting-edge scientific and cultural research.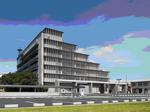 Summary:
Location: Southern tip of Kyoto Prefecture, north of Nara city
Area: 85.12 squared kilometers
Population: 73,824 (as of August 31, 2015; growing)
Transport:
Train:
Japan Railways- JR Kizu Station (3 lines)

JR Kansai Main Line (To Nara, Osaka, Nagoya)
JR Nara Line (To Kyoto, Nara)
JR Science City Line (To Osaka, Kobe)

Kintetsu Railways- Taka no Hara Station (1 line)

Kyoto Line (To Kyoto, Nara)
Car:
Route 24 (Kyoto to Wakayama)
Route 163 (Osaka to Mie)
Keinawa Motorway
Business Enterprises in Kizugawa City
Among the 12 designated cluster sites in Kansai Science City, 3 are located in Kizugawa City. They are: Seika-Nishi Kizu, Heijyou-Soraku and Kizu. Currently, there are already 21 companies of various industries which have chosen to base themselves in Kizugawa City.
Seika/Nishi Kizu




Omron Keihannna Innovation Centre

Heijyou/ Souraku

Sekisui House, Comprehensive Living Research Center

Kizu




Rohto Pharmaceuticals Research Village
Support for Businesses in Kizugawa City
Kizugawa City offers various subsidies and incentives for businesses relocating to Kizugawa City. They are: Business Start-up Subsidy for development of business infrastructure, Local Employmenbt Subsidy to encourage employment of local residents, and Business Operation Support Subsidy. Specifically, the Business Operation Support Subsidy provides up to \150,000,000(or \600,000,000 depending on qualifications) over 3 years, and can accommodate to large-scale business establishment.
In addition, Kizugawa City also offers a comprehensive support service and provides advice and assistance with all aspects of government and municipal regulations, from planning to the start of business operations.
Eligible Businesses

1. Businesses relocating from outside Kizugawa, as well as businessesrelocating, estasblishing new facilities, or expanding within Kizugawa City

2. Businesses which will stimulate the local economy, industries, and employment

3. Businesses which will operate with respect and care for the local environment

Designated Areas

Semi-Industrial Sites

Application Period

Businesses prepared to locate to Kizugawa by March 31, 2017.

Allocation of Support

By review of the Kizugawa City Business Development Commitee

Eligible Industries

High-Tech Industry

・Offices or Headquarters of manufacturing industry (other than high-tech)

・Other applicants proposing offices or headquarters may be accepted at the discretion of the Mayor

Offices or headquarters of IT or R&D company

Headquarters of Manufacturing company

Offices of manufacturing company

Requirements

Site Area

Over 500m2

or over

¥20,000,000

Over 500m2 or over ¥50,000,000

Value of tangible assets

Locally employed staff

1 or more

1 or more

1

Business Start-up Subsidy

One tenth of cost of fixed assets

Maximum subsidy: ¥30,000,000

Maximum subsidy: ¥10,000,000

2

Employment Subsidy

・Subsidy for employing each of the following category of employees for at least one year after start of business operations:

(1) Handicapped employees(※1)¥500,000

(2) Regular employees(※2)¥400,000

(3) Other employees ¥100,000

・Maximum subsidy over 3 years is ¥30,000,000

3

Business Operation Support Subsidy

・Fixed Asset Tax rebate (excluding land value tax):

 First Year: 90%、Second Year: 66.6%、Third Year 33.3%

・Maximum subsidy over 3 years: ¥150,000,000

However, businesses with invested fixed assets over 1 billion yen and 5 or more new local employees may receive up to \600,000,000 in Business Operation Support Subsidy.

○Recipients of the Kyoto Industrial Site Strategy 21 Special Business Subsidy are ineligible for Subsidy I and II above.

○Recipients of the Ordinance Concerning Exception to City Tax Measures Regarding the Establishment of Kansai Science City are ineligible for Subsidy III.

(※1)As designated by Section 2 of the General Handicapped Persons Act

(※2)Kizugawa City will determine the status of regular employee based on the following:

direcy employment, non-fixed term working contract, working hours, status of social insurance, etc.
Access to Kizugawa
Located in the center of the Kansai Region, Kizugawa has always been blessed with excellent transport links. Today the city is extraordinarily well-connected. Specifically, with direct JR trains, the main metropolitan areas of Kansai, Osaka and Kyoto, are both reachable within 30 minutes to 1 hour.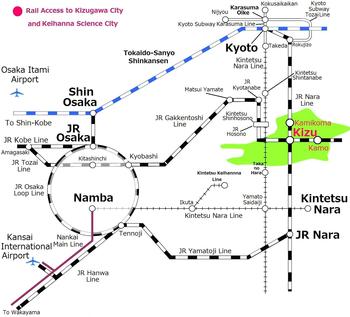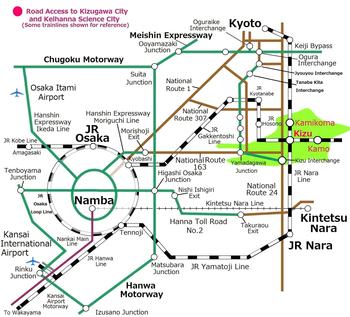 Further Information
For parties interested in further information and discussion, please direct all enquiries to the Kizugawa City Hall Scientific Research and Planning Division, or the Urban Renaissance Agency.
Contact Details

Kizugawa City Office
Section
Scientific Research and Planning
Phone
0774-75-1201
FAX
0774-75-2701
E-mail
kigyo@city.kizugawa.lg.jp
Contact
Sakamoto, Fujita, Lee
Urban Renaissance Agency
Section
West Japan Branch Office, Business Site Sales Team 1
Phone
06-6346-3183
FAX
06-6346-3125
E-mail
onoe@ur-s.jp
Contact
Onoe, Mizushima

登録日: 2012年3月31日 / 更新日: 2017年11月15日