Trash Disposal in Japan
Refuse in Japan
Trash disposal in Japan is different from many other countries and is rather daunting at first, but don't panic!
Trash and garbage are sorted into a number of different categories and collected on different days for each type. There are also different types of trash and garbage bags for each type. These can be bought in supermarkets and convenience stores (please do not use grocery bags). Normally Japanese people have several bins in their homes, and keep each type of trash separate before taking it out for collection on the appropriate day. Trash is collected from communal areas in each neighbourhood (there is almost certainly one within 100 meters of your home).
Collection days are different for each area.
Please try your best to learn how to sort your trash properly. If you don't, you may find it returned to your door!
There are a couple of things to take particular note of:
Non-rechargeable batteries should be left in special red bins.

Rechargeable batteries can be recycled by leaving them in the yellow boxes which can be found in supermarkets and electronics stores. Please tape over the ends of the battery and place in the yellow bins, as in the illustrations below.

Recyclable batteries should have these symbols somewhere on them.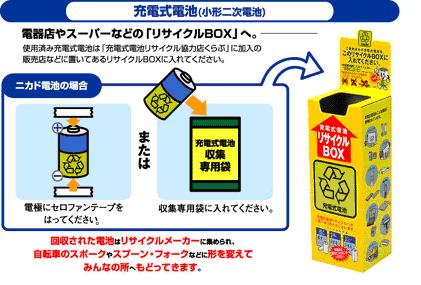 Please tape over the batteries ends or place them in battery collection bags then place them in these boxes
PET bottles (plastic bottles) have special disposal instructions. Remove the cap and label (these go in Plastic casings/wrapping), rinse out and leave them in the special collection nets. These should be somewhere close to the main trash collection area.

Cardboard drink cartons (unless they have silver linings) should be rinsed, dried, cut open, and folded flat. They should then be left in the (usually) blue boxes marked 回収

.

If you have any additional quesitons please call Kizugawa City Hall.
登録日: 2012年3月31日 / 更新日: 2018年7月23日